Term 4 & 5
Scream Machine
Topic
Roll up, roll up. You're going on a day trip to a theme park, to soak up the unique sights, smells and sounds of the fair. Learn about the science behind roller coasters and write poems that are shaped as a loop the loop. Design a theme park and show your ideas on a digital map. Time for some mini investigations. Cam mechanisms, pendulums, pulleys and prototypes. Let's go behind the scenes to see forces at work. Good news. The engineers at 'Scream Towers' love your work and want you to build a death defying new drop ride for their theme park. Make a working model and test it out with uncooked eggs. Cracking stuff. Okay, ready to ride? Don't forget to scream if you want to go faster.
To enhance the children's learning experience, we hope to be able to arrange a visit appropriate to this topic. More details will follow.
The Learning Organiser for this topic can be found below. It gives a general overview of what the children will be learning.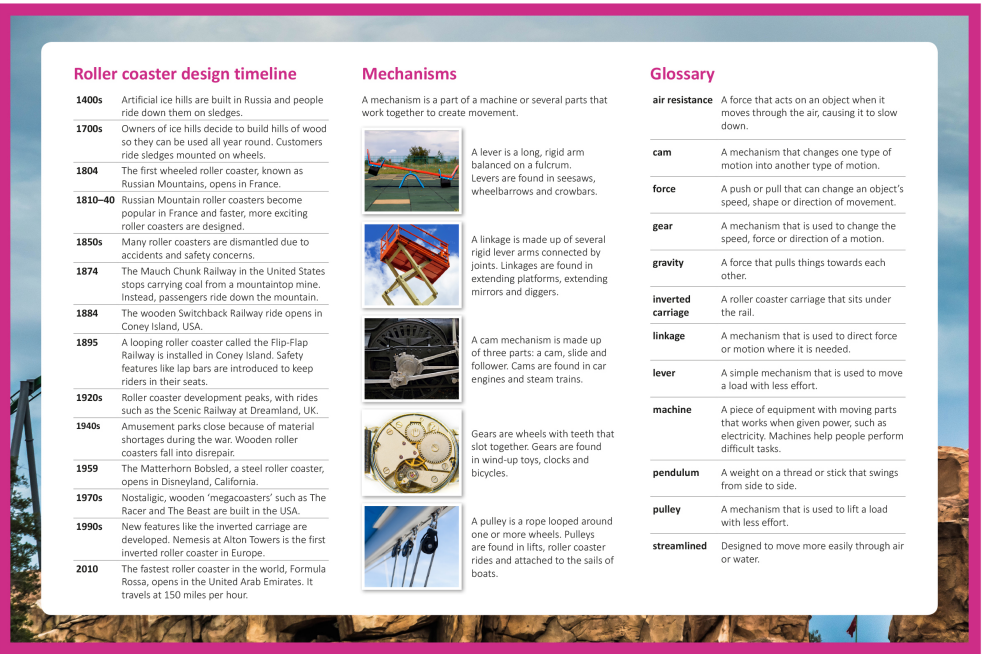 MATHS
During Terms 4 & 5, we will be developing our learning on fractions, decimals and percentages; area, perimeter and volume as well as statistics.
'The London Eye Mystery' by Siobhan Dowd will form the basis of our whole class reading sessions in terms 4 & 5. This engaging text is a story about family, self-belief and bravery; we're sure the children are going to love it!
Our writing lessons will cover both fiction and non-fiction writing skills; fictional writing sessions will focus on suspense writing, and our non-fiction writing will look at recounting and reporting.
R.E.
Our thinking and discussion this term will centre around the Jewish faith. Our key consideration this term will be: What does it mean to be Jewish in Britain today? We will also be considering what can be done to reduce racism in our society and if religion has a role in making change?
P.E
P.E days this term are to be confirmed.
HEARTSMART