Term 3
Alchemy Island
Topic
It's time to suspend your disbelief and open your mind. We're going on a magical journey to Alchemy Island. Can you find the gold hidden deep within the island's mysterious landscape? The only way is to study the map, unravel the riddle and begin your adventure. On the way, you must do all you can to learn about gold and master the ancient art of alchemy. Be creative and try to impress the island's team of ace alchemists. Will they praise your scientific expertise? What if there were a video game version of Alchemy Island? Could you compose a stunning soundtrack to bring this mysterious landscape to life? You've got your map, coordinates and everything else you need to make your way across Alchemy Island. Don't forget to pack your imagination. Got your suitcase ready? Then let the journey begin.
To enhance the children's learning experience, we hope to arrange a visit suitable to this topic. More details will follow.
The Learning Organiser for this topic can be found below. It gives a general overview of what the children will be learning.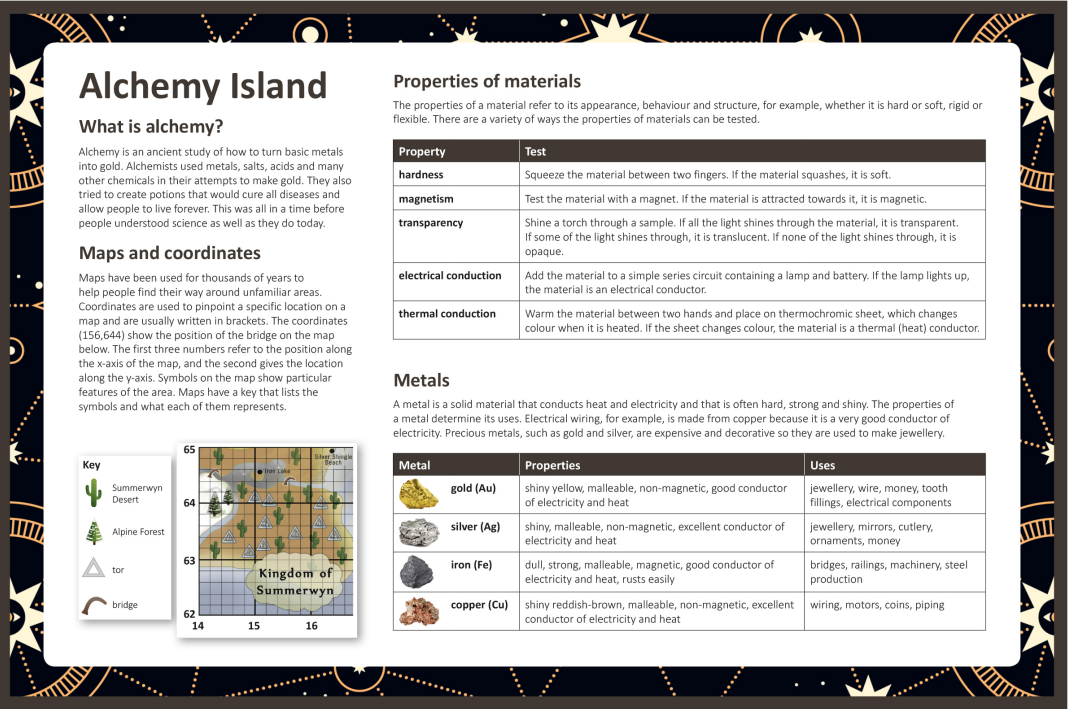 MATHS
During Term 3, we will be continuing our learning on ratio, algebra and decimals.
ENGLISH
The epic poem, 'The Highwayman' by Alfred Noyes will form the basis of our whole class reading sessions in term 3.
Our writing lessons will cover both fiction and non-fiction writing skills; fictional writing sessions will focus on character and dialogue, and our non-fiction writing will look at persuasive argument.
R.E.
Our RE studies in term 3 will be focusing on Humanism. We will be looking at the philosophies and beliefs of this movement and comparing it to other faiths.
P.E
P.E days this term are to be confirmed. This term we will be looking at dance skills.
HEARTSMART